The ultimate goal of the Peterborough Construction Association is to bring our members together to work collectively towards increasing the profile of companies in the region. These companies employ local workers and therefore create jobs and profitability for the community.
Based on a 2014 survey and subsequent research, we have determined that the members of the PCA have a significant impact on the local economy.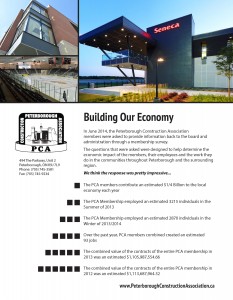 Download the PDF summary of the 2014 Survey Results
Combined Value of Construction Contracts in 2013
Direct Annual Economic Impact PCA Members have on the Community
Annual Full Time Job Equivalents, employed by PCA members
New Jobs Created in 2013
The percentage of our members who are most likely to work with another company who is a member of the PCA/Locally operated!